INDUSTRY: Financial Services
BUSINESS: IT service provider to two of the Czech Republic's foremost financial service companies, serving over 64 million customers in 11 countries.
SCOPE: International
SIZE: 800 employees
BUSINESS CHALLENGE: EmbedIT wanted to take a more proactive approach to vulnerability management to ensure that its clients' banking services stayed secure.
SOLUTION:
Enterprise TruRisk Platform
Qualys PC
Qualys VM
Qualys WAS
WHY THEY CHOSE THE Enterprise TruRisk Platform:
One of the best IT security tool on the market according to EmbedIT's research
Fast and flexible deployment with cloud-based subscription model
Comprehensive vulnerability scans and reports enable fast, targeted action
EmbedIT Keeps Highly Sensitive Financial Information Safe from Cyber Attacks with Cloud-Based Continuous Security
To protect its clients' business systems – and their customers' sensitive financial information – from a constant stream of security threats, EmbedIT deployed a cloud-based vulnerability management platform. EmbedIT is now better able to avoid, monitor, identify and resolve issues in less time.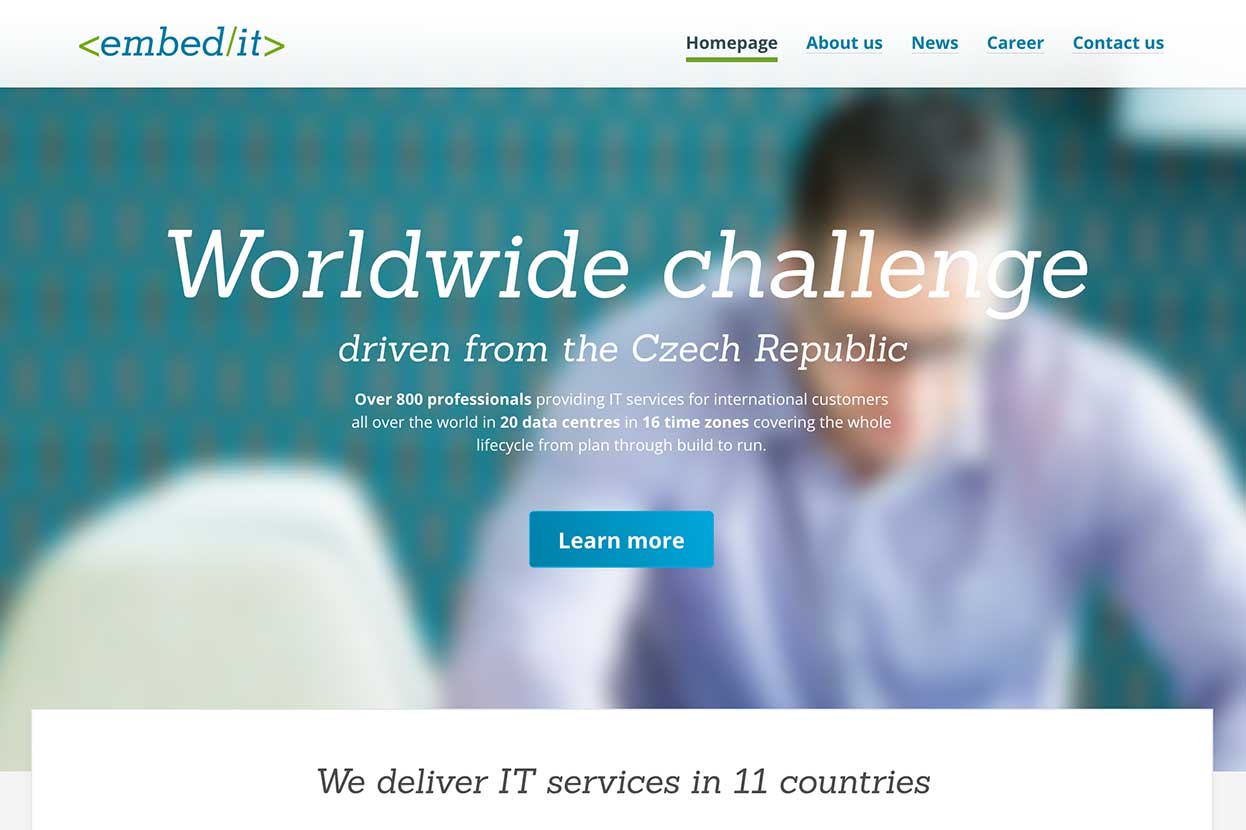 EmbedIT provides IT services for two of the Czech Republic's leading financial institutions, Home Credit Group and Air Bank. Supporting international operations in 11 countries, EmbedIT manages the companies' data centres and extensive network, which includes over 241,000 points of sale, loan offices, branches, and post offices. Headquartered in Prague, EmbedIT's 800 employees manage a global infrastructure across 20 data centres that process more than 200 million transactions every day.
Keeping Customers' Finances Safe
Offering a wide range of retail financing and banking services all around the world, Home Credit Group and Air Bank handle huge volumes of highly sensitive customer data. Needless to say, protecting customers' money and personal information is the highest priority for both companies. EmbedIT must therefore ensure that its network is continuously protected against cyber-attacks.
Patrik Babnič, IT Security Team Leader at EmbedIT, explains: "There are always new security threats coming through – 24 hours a day, seven days a week. It's absolutely critical that we keep both internal- and external-facing systems well protected from potential cybercrime."
"Because we also use the Enterprise TruRisk Platform to support our server build process, from development and pre-production to production, we have been able to reduce the number of vulnerabilities on new servers to a minimum."
Patrik Babnič,
IT Security Team Leader, EmbedIT
In the past, EmbedIT monitored its network for vulnerabilities manually – a time-consuming process, which meant that the IT Security team was not always aware of the latest threats.
"More often than not, we would see news of a new vulnerability online first," recalls Patrik Babnič. "We'd pass this information on to the IT operations and application managers who would then check their systems for the vulnerabilities. Monitoring for vulnerabilities manually meant that we barely had full insight into where we might have been vulnerable – or if there had been an issue, whether it had been fully fixed. We simply passed details of current threats on to the IT Operations team."
To help prevent security breaches, EmbedIT wanted to take a more proactive approach to monitoring its IT assets for vulnerabilities.
Counting on Qualys
After evaluating offerings from several vendors, EmbedIT chose to deploy three solutions from the Enterprise TruRisk Platform: Qualys Vulnerability Manager (VM), Qualys Policy Compliance (PC) and Qualys Web Application Scanning (WAS).
"We selected Enterprise TruRisk Platform because we believe it is one of the best tools on the market," says Patrik Babnič. "Another important deciding factor was that the Qualys solutions are cloud-based, so we didn't have to invest in any hardware, or worry about managing and patching any equipment. It was also very easy to implement and integrate the Enterprise TruRisk Platform with other systems."
"Support from Qualys is really very good," he adds. "Every time we have a question or submit a support ticket, we get an immediate answer. We've developed a great relationship with the local Qualys team – we appreciate the fact that they check in with us every week to make sure everything's running smoothly and to see if there is anything that they can help with."
With the Enterprise TruRisk Platform in place, EmbedIT now runs an in-depth malware and vulnerability scan using Qualys VM once a month, covering production and pre-production environments. The company can also run additional scans as and when needed should any security issues suddenly crop up.
Patrik Babnič comments: "The Qualys VM scan reports are very comprehensive, which means that we can see at a glance which, if any, servers are vulnerable to attack or have been impacted, and inform the relevant teams immediately.
"The reports provide a lot of high-quality information, which enables us to prioritise action based on the criticality of vulnerabilities, whether the vulnerable servers are internal or external, and whether the vulnerabilities have already been exploited. Having this level of insight at our fingertips means that we can react to vulnerabilities much faster than before. And the sooner we can deal with any potential security threats, the better able we are to prevent breaches."
In addition, EmbedIT takes advantage of Qualys WAS to automatically scan live web applications for vulnerabilities, and Qualys PC to ensure that servers are configured according to vendors' guidelines and best practices.
Ensuring Sky-High Security
Today, EmbedIT is better protected than ever before against cyber-attack.
Patrik Babnič remarks: "While it simply isn't possible for IT security professionals to react to new threats in real time, speed is most definitely of the essence. It is crucial that we get information on vulnerabilities as soon as possible so that we can decide how best to approach issues, protect servers and mitigate risk. The Enterprise TruRisk Platform gives us the detailed insight we need to take targeted action to keep business systems and, most importantly, customer information safe.
"The quality of information that the Enterprise TruRisk Platform provides is very impressive. Monthly scan reports are extremely detailed and contain a low number of false positives. We still have to search for and investigate the detected vulnerabilities manually, but, critically, the reports point us in the right direction so we can react faster."
As well as being able to automate monthly scans, EmbedIT benefits from being able to scan its entire network on-demand for specific vulnerabilities.
Patrik Babnič comments: "When we got news of the Shellshock software bug on 0-Day, we ran a Qualys VM scan immediately. We were able to refine the scope of the scan so that it only searched for Shellshock and, happily, we were able to find and provide all the necessary information about vulnerabilities in just one day for all environments.
"What's more, because we also use the Enterprise TruRisk Platform to support our server build process, from development and pre-production to production, we have been able to reduce the number of vulnerabilities on new servers to a minimum, right from the start of the lifecycle."
He concludes: "We are so satisfied with our Qualys solutions that we're currently planning to deploy the rest of the Enterprise TruRisk Platform solutions so that we have the full, integrated suite in place. We're looking forward to improving our IT security processes even further to ensure that we always keep customers' sensitive information safe and secure."