Complimentary Analyst Report
How to Implement a Risk-Based Vulnerability Management Methodology
Why CVSS Base Scores are Not Enough for a Complete Measurement of Real-World Risk
According to Gartner®, Vulnerability management has long been viewed as a compliance function instead of a threat-prevention capability. Security and risk management leaders should implement Gartner's RBVM methodology to prevent threats, quantify operational risk and meet compliance mandates.
What are the key outcomes of a RBVM program and how can security and risk management leaders implement them most effectively? Download this report to find out.
With this expert research from Gartner®, readers will get actionable recommendations:
Adopt the RBVM methodology as it uses additional context, such as asset context, threat-actor activity and compensating controls. It also employs the base vulnerability assessment (VA) telemetry to evaluate and identify true risk. This evidence-based approach can significantly reduce the possibility of a breach
Look to augment your VA tool with dedicated vulnerability prioritization technology (VPT), breach and attack simulation (BAS), external attack surface management (EASM) and attack path assessment tools. Doing so will provide better vulnerability prioritization and more effective operational risk quantification. These emerging technologies reduce the onerous manual work required and are now present as features in most VA solutions — although efficacy varies
Use evidence- and risk-based approaches to improve functions like patching with compensating controls.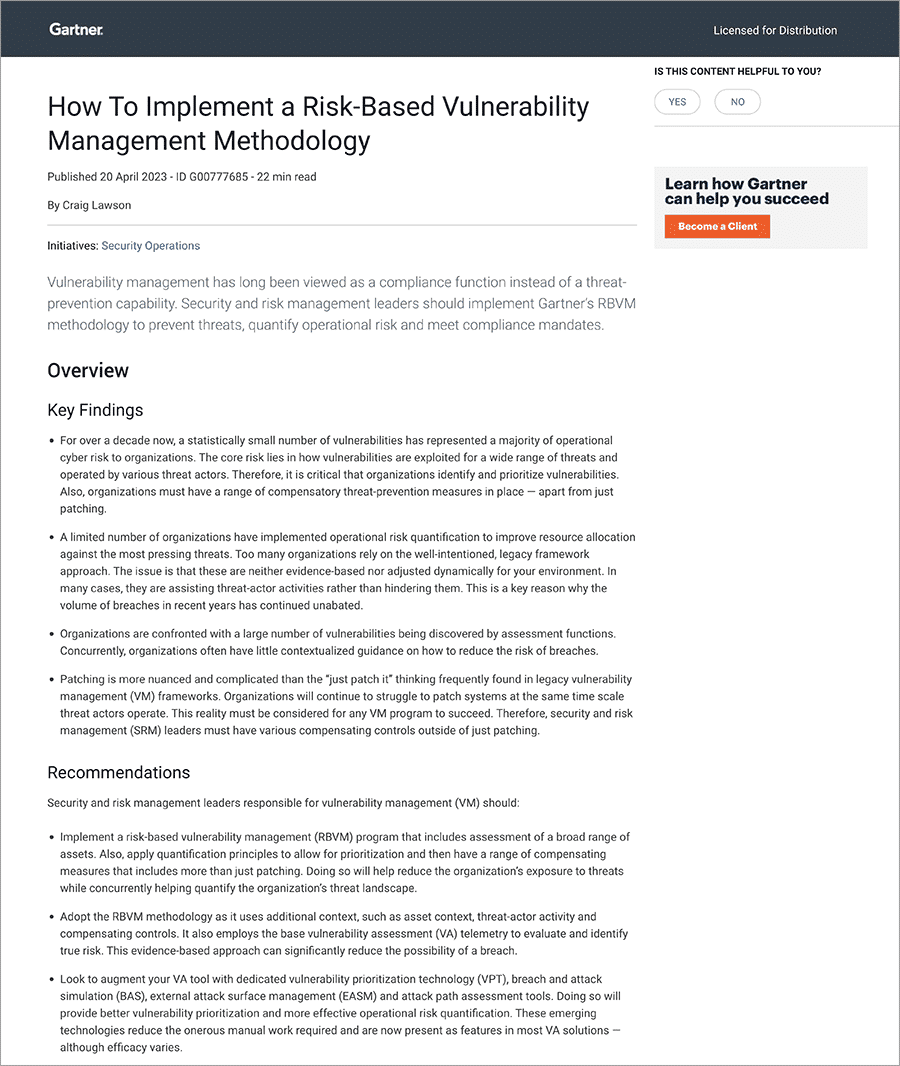 Gartner®, How To Implement a Risk-Based Vulnerability Management Methodology, Craig Lawson, 20 April 2023
GARTNER is a registered trademark and service mark of Gartner, Inc. and/or its affiliates in the U.S. and internationally and is used herein with permission. All rights reserved.