To cover systems where network scanning is impractical, the company deploys lightweight Qualys Cloud Agents. These eliminate the need for manual, time-consuming scanning processes, and ensure the entire IT estate is being monitored and protected 24/7. Finally, Qualys offers PearlDataDirect immediate visibility of emerging threats across the network, such as changes to open ports, newly installed software, and expiring certificates.
"The difference between our previous scanning technology and Qualys is night and day," adds Midhun Kumar. "Using sensors in Qualys VMDR, we can continuously monitor all network traffic to build up a complete picture of all the assets in our environment for the first time. Qualys Cloud Agents are truly a gem, as they enable us to capture real-time data on each of the assets on our network. By tagging assets based on attributes such as operating system, network, and criticality, we can rapidly determine which vulnerabilities we should focus on first."
Accelerating regulatory activities
Crucially, Qualys is empowering PearlDataDirect to accelerate and enhance its regulatory reporting process. "Qualys allows us to instantly see the maturity of our compliance policies across AWS and Azure, based on Center for Internet Security [CIS] benchmarks," explains Midhun Kumar.
Using the same data collected for VMDR, PearlDataDirect can demonstrate compliance with security regulations via the Qualys Policy Compliance app. PearlDataDirect can also map secure configurations to the best-practice standards mandated by its regulators, allowing it to automatically generate detailed mandate reports and demonstrate that all systems meet the standards that auditors expect.
Midhun Kumar adds: "Qualys Policy Compliance has dramatically simplified our approach to key regulatory processes. When we are going through an audit, or our parent company is applying to operate in a new region, our cybersecurity program is one of the first things that regulators ask about. With Qualys Policy Compliance, we can now generate accurate, in-depth regulatory reports in seconds."
Supporting business innovation
Today, the cloud CCoE relies on Qualys to protect its IT estate from cyber threats. The company now uses automated deployment workflows to extend VMDR further by sending vulnerability data captured via Qualys Web Application Scanning to Jenkins and Azure DevOps, ensuring that all issues are remediated before code goes into production.
Most importantly, the solution helps demonstrate that the company's cloud environments are fully compliant with international regulatory requirements—empowering its parent company to quickly bring its new mobile app to market.
"Thanks to the work we've done with Qualys, our parent company is now supporting over one million migrant workers with fast, secure, and convenient mobile services to send money back to their families," adds Midhun Kumar.
"Qualys VMDR provides a wide range of capabilities in a single package. Because the Qualys solutions are cloud-based, there's no need for us to provision separate infrastructure for a scanning engine, which greatly reduces cost and complexity. Qualys VMDR is also extremely intuitive, which makes it fast and easy for us to train new users"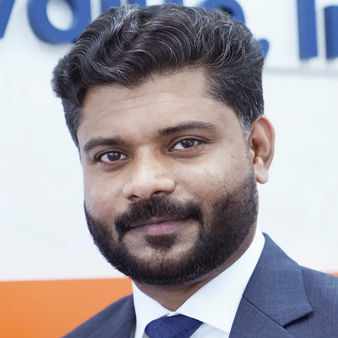 Midhun Kumar
Head of Infrastructure and Cloud Operations, PearlDataDirect
Building on a successful partnership
Looking ahead, PearlDataDirect plans to build on its work with Qualys to further strengthen its information security posture. For example, the company is currently trialing Qualys Patch Management to automate its remediation processes, which could ultimately support more than 150 employees working remotely as a result of the COVID-19 pandemic.
"We're now exploring Qualys Patch Management for a subset of our Linux systems," comments Midhun Kumar. "Once proven, we could expand the solution to support our remote employees—ensuring our systems are protected at all times, regardless of whether they are inside the firewall or on an external network."
Midhun Kumar concludes: "In Qualys, we've found a complete vulnerability management and compliance solution that meets all our core requirements. We see Qualys as a true partner, and we look forward to continuing our close collaboration as we take the next steps on our cloud journey."