Defending against new cyber threats
JG Summit configured Qualys VMDR to scan its most critical server assets, 75 percent of which are hosted by a managed service provider, while the remainder are deployed on-premises at JG Summit corporate offices in the Philippines.
"With Qualys VMDR, we gain full visibility of our critical assets and an instant understanding of their exposure to external threats," continues Gonzales. "We now automatically scan our servers with additional follow-up scans as required to verify that remediation work has been carried out successfully by the system owner or managed service provider."
Delivering group-wide protection
By generating accurate, fine-grained reports in VMDR and universal dashboards, JG Summit's SOC can rapidly gather and disseminate security insights to management and senior leadership teams across the group—helping to ensure timely action on vital remediation work.
"Because we operate in highly regulated sectors such as finance and aviation, governance and compliance are always top of mind," explains Gonzales. "Leveraging the same data we've collected for VMDR, we can monitor the status of each of our assets and show the owners exactly what they need to do to stay in compliance."
Offering 24/7 protection
By deploying Qualys VMDR, JG Summit has gained deeper and more accurate insights into vulnerabilities across its critical systems—empowering the SOC to better protect JG Summit employees and customers using its digital services.
"Without a doubt, Qualys VMDR is the backbone of our vulnerability management program," says Gonzales. "Whenever there's a question about whether an asset is at risk, we trust Qualys dashboards to give us the answer instantly. Over the last eight months, we've seen an unprecedented number of zero-day exploits, but Qualys solutions give us peace of mind that our mission-critical systems are protected. Equally importantly, the rich data we're now gathering is contributing to faster and better-informed decisions on our defensive posture across the organization."
Enabling business agility
VMDR is now supporting companies across the JG Summit group, including the company's financial services arm: Robinsons Bank.
"With so many customers in lockdown because of the pandemic, Robinsons Bank aimed to enhance its high quality of service by boosting the number of products and services available online," explains Gonzales. "Previously, testing and releasing a web app into production was a time-consuming process that could take up to two weeks of work. Thanks to Qualys, we extended VMDR to test apps in as little as 24 hours, and launch them with full confidence that they are secure. Helping Robinsons Bank to react with agility to the new demands of the pandemic."
Looking to the future
While JG Summit's journey with VMDR is just beginning, the company is already measuring the positive impact of Qualys solutions on its security posture. The SOC has driven down resolution times for vulnerabilities significantly, and the group is now investigating the possibility of using Qualys CyberSecurity Asset Management (CSAM) to secure its estate of employee notebook and desktop devices, totaling more than 25,000 endpoints.
"Maintaining positive control over our IT environment is a cornerstone of our information security strategy that starts with having a full view of all the hardware, software, and data in the group," comments Gonzales. "We are extremely interested in CSAM, as it will enable us to see beyond our internal network and get a complete picture of all the assets to detect any security gaps like unauthorized or end-of-life software and respond with appropriate actions to mitigate the risk."
"Qualys offers us a team that's extremely easy to work with and a solution that's top notch—helping us to stay ahead of cyber threats and protect the entire group"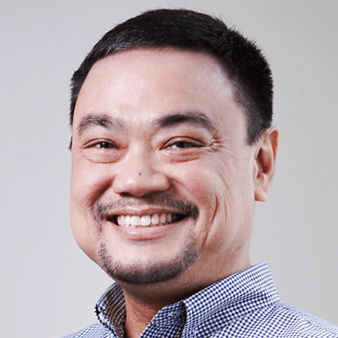 Gonz Gonzales
Chief Information Security Officer, JG Summit Holdings, Inc.
JG Summit's relationship with Qualys continues to deepen. Gonzales concludes: "Over the years we have worked with Qualys, they've become a true partner to JG Summit. Qualys is genuinely interested in our long-term plans, and always takes the time to explore how they can help us realize our goals. Qualys offers us a team that's extremely easy to work with and a solution that's top notch—helping us to stay ahead of cyber threats and protect the entire group."