Preparing for Next-Generation Services
After almost a decade of success with its digital banking services, Bankmed aimed to prepare for the next generation of data-driven customer services. In 2019, the bank accelerated an initiative to move to a fresh core banking platform, including new web applications for digital banking services. Again, the bank turned to Qualys to help meet the stringent information security requirements for the project within a tight timeline.
"To launch the new core banking system and web applications within just 12 months, we had to rapidly scan, pen test and harden an entirely new data centre architecture," explains Assah.
"When a Qualys scan of the new core banking platform revealed a large number of vulnerabilities, we knew that we needed to cut the time and effort required to prioritise, remediate and monitor the environment to meet the go-live target."
Enhancing Key Security Capabilities
To help solve the challenge, the bank added Qualys Threat Protection (TP), Policy Compliance (PC), and Continuous Monitoring (CM).
With Threat Protect, Bankmed leverages automation to rank its vulnerabilities by severity, assign teams to fix them, and track their progress. Using Policy Compliance, the bank can ensure that its core banking systems are configured for maximum resilience to cyberattacks, and meet SWIFT and PCI:DSS compliance requirements for annual and quarterly vulnerability scans. Finally, Continuous Monitoring allows the bank's security team to automatically scan for new vulnerabilities on external-facing servers, enabling a proactive approach to emerging threats.
"Our Qualys solutions helped us to quickly narrow down the list of vulnerabilities to the most critical, most exploitable threats," comments Assah. "What I really love about the Qualys solution is how clearly it presents information. We get all the relevant data on each threat and how to resolve it in one place, which makes for an extremely efficient remediation process."
Rising to Unprecedented Challenges
Near the end of its 12-month deadline for the core banking refresh, the COVID-19 crisis swept around the world. Despite the significant day-to-day working pattern disruptions, Bankmed successfully leveraged its Qualys solutions to complete its essential information security validation process on time and meet the 2020 target.
"Although we don't allow access to the Qualys Cloud Platform from external networks, national lockdowns during COVID-19 never slowed us down," says Assah. "By enabling our team to log into their Qualys dashboards using secure VPNs, we successfully validated the new core banking environment within our tight one-year deadline."
"The Qualys Cloud Platform plays a key role in enabling watertight security for our digital banking offerings."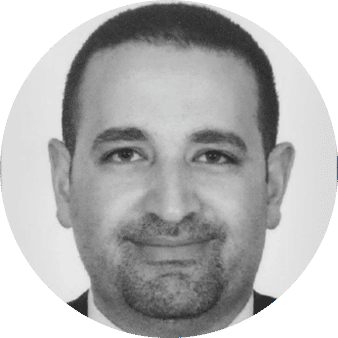 Bassel Assah
Head of Infosec & Business Continuity, Bankmed
Ready for the Future
Today, Bankmed uses the Qualys Cloud Platform to scan more than 5,000 IP-connected assets, with daily scans for external-facing systems and scheduled periodic scans for internal networks.
"As consumer preferences shift towards online and mobile experiences, our digital banking services are only going to become a more important part of our offering," concludes Assah.
"Thanks to Qualys, we have the rich information security capabilities we need to protect our systems—and our customers—from ever-changing cyber threats. Whenever we need guidance or support, we know that we can count on Qualys to come through for us, and we look forward to building on the relationship as we launch the next generation of digital services."